#6 Amazon debuts health subscription service. Pharma giant Bayer starts to SaaS-up. Art as a Service. Walmart fight vs Amazon. Porsche piloting subscriptions.
September 15, 2020
Key highlights of this edition:
Amazon debuts health subscription service

Pharma and Life Science giant Bayer starts to SaaS up

Porsche starting to pilot subscriptions

Walmart's stock gets a $24 billion boost after announcing subscription service.

Decades ago David Bowie had a vision and Patreon seems to be its mainstream version.
Read more why I'm writing this newsletter. Link
Read the archive of previous issues. Link
Manually curated by @luigimallardo
My things 🧠
Mentor, Advisor, Consultant, Coach and others. When it comes to SaaS scaleups or Non-Tech companies in need of recurring revenue any business network (+ LinkedIn) is cluttered of options and "titles" of all kind. You can get confused if you don't really know how to navigate. You wouldn't hire an electrician to fix a leaky pipe, isn't it so? Link.
Your next SaaS revenue leader should be a vitamin, not a medicine. Is the classic VP Sales model broken in mainland Europe? Link.
News on SaaSed-up companies 🗞
Amazon debuts health subscription service, a new fitness band system - Halo - that uses deep analytics and machine learning to advise wearers on everything from sleep habits, to body fat, to moods. Amazon claims that its technology is able to provide accuracy up to the standards of what a doctor would be able to determine in a clinical setting. Link.
News on SaaSing-up companies 📈
Pharma and Life Science giant Bayer starts to SaaS-up by acquiring a 70% stake in Care/of, a New York-based provider of vitamin and supplement subscriptions, valuing the startup at $225 million,per Bloomberg. Link.
Also Porsche is starting to pilot subscriptions for its cars and SUVs in US. Short-term leases include insurance and maintenance. Appealing to a younger target. Link.
Walmart's stock gets a $24 billion boost after retailer announces subscription service. Link.
Rising Stars
Art as a Service. Decades ago David Bowie was an early pioneer of connecting directly to fans through digital subscription services – he gave his fans exclusive tracks, photographs, videos, as well as web space and email address through his own ISP service, BowieNet. Many years later the vision of Bowie seems to have become mainstream. Patreon, whose platform lets creators earn money from fans through subscriptions, has raised $90 million in new funding. The seven-year-old company says it now has a valuation of $1.2 billion, and it's planning to use the financing to expand internationally and beef up tools for creators (and their fans). Link.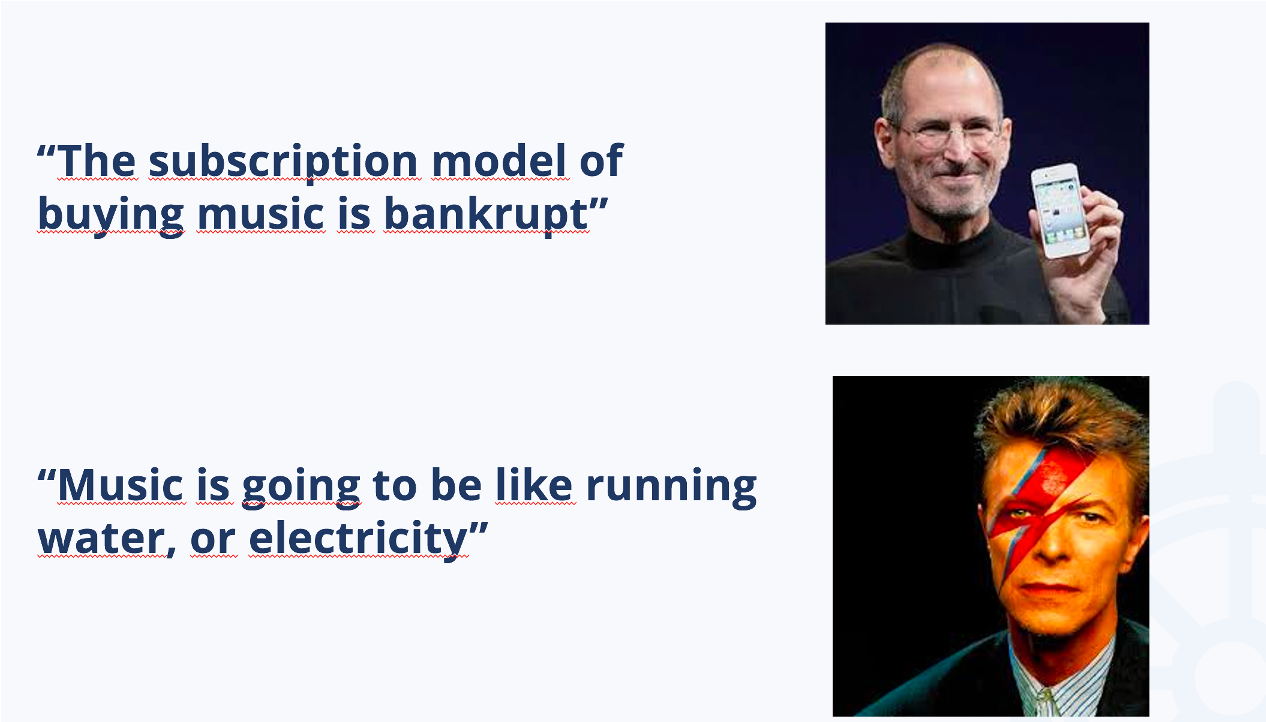 Interesting reads 📖
Forget about net sales and COGS. There will be new KPI's in the new reality. MRR, churn, LTV, CAC. This presentation is about understanding SaaS and any business based on recurring revenue. How to think about them, how to value them, how to use unit economics like CAC and churn  to measure them, all with a particular focus on measuring the health of the annuity portion of a business, the installed base. Link.
According to research from Barclaycard, the spending on subscriptions in UK has increased by 39.4% for the year to July! Demand for home delivery subscriptions, for items ranging from groceries to magazines, has jumped after the coronavirus lockdown kept people at home. Link.
If you liked this post from SaaSification, why not share it?